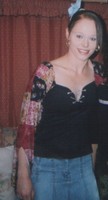 Hi this is a page all about myself, My life, My family, And why I'm a huge Stevie fan. With extra added info about my self and favourite things. Happy Reading.
My name is Marie Frances Taylor, I'm 25 years of age and live in Oldham which is a town in Greatest Manchester in the northwest of England. I live by myself with my cat Chloe, I live in a two bedroomed flat or apartment if your American.I work fulltime for a large supermarket chain called Tesco, were I work in the bakery. I really enjoy my job and enjoy pay day even more as we get paid Monthly. I'm an absolute huge fan of Fleetwood Mac but especially Stevie Nicks I really envy her and idolise her for want of a better word, I'm so thankful for the music she has given us all, She's a star. I have been a fan ever since I was nine years old and the first song that I ever heard was on the radio in a cab in South Africa were we used to live and the song of course was Everywhere. Such a class song. Anyway ever since then I have just really been a huge and great fan of her and know it will carry on the only thing I regret about the whole thing is that I have never seen Stevie in concert, when I first like Fleetwood Mac and Stevie Nicks I was really to young to go to a concert plus we lived half way across the world. But never mind maybe one day who knows. I bet Stevie is a really nice person like asthough she would make a really good mother. She reminds me ashtough she has a strong and warm motherly side to her. When I was just a kid I used to cry because I just couldn't understand why I couldn't meet or contact or write to Stevie. I guess I was about nine then and it took my mother weeks to explain why you can't just go and visit or contact and celebrity.
Anyway I have created this site as a dedication to the greatest queen of Rock and Roll please enjoy and come back soon.
~Marie~
Anyway Some Facts About Myself:
Body: Slim
Height: 5ft 4in
Eyes: Blue
Hair: Browny Red
Star Sign: Aquarius
Birthday: 21 January 1981
Hand: Right Handed
Piercings: Navel, Ears, Nose, Tongue
Tattoo's: Small rose on upper left arm, Small bunny rabbit on shoulder/back and a Celtic sign on the bottom of my spine.